Doniczka , osłonka ogrodowa na kwiaty dekoracyjne, prostokątna, wysoka - ELA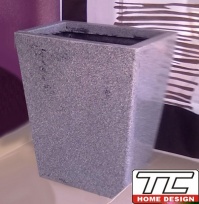 Price: 23,71 £
Flower pot, garden cover for decorative flowers, rectangular, high - ELA
Manufacturer: TC-HomeDesign
Made of polyester-glass composite, so-called laminate.
It can be used indoors and outdoors.
Dimensions: 30x16x40cm
width: 30cm
depth: 16cm
height: 40cm
Weight: 1 kg
Shape: rectangle
Colors: all available colors are in accordance with the RAL color palette
Price for 1 piece, excluding shipping costs.
Shipping cost in Poland: 30 PLN
Payment: payment to the account
If you need to provide additional information, please contact us;
tel. +48 889091198 (8-16)
e-mail: debe76a@onet.pl
Contact Form
Product on order, waiting time 14 day.