Ford FOCUS Mk.3 ; 04.2008 -> - CHROM- nakładki na klamki drzwi / doors handle cover / Turgriffeblenden - TC-1201 0020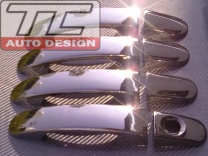 Price: 31,51 £
Availability / delivery: shipping up to 4 days from order date
We offer a full range of accessories in stainless steel, so called. CHROM: door handle overlays, overlays, tailgate handles, side skirts wenętrzne, frames, lamps, frames, windows, moldings on the lower edge of the boot lid, protective strips on the bumpers, mirror covers, skirting the front grille, etc.

Ask a question about the product you are looking for.
Mail to:
Out of stock product in stock.
Contact Form