AUDI UrQuattro - lekka pokrywa silnika / light hood - TC-T-A2-02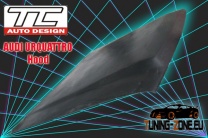 Price: 289,13 £
Audi UrQuattro - lightweight engine cover / light hood - TC-T-A2-02


! Description of the company's own TC-Tuning Center autodesign.pl!
Protected by copyright.

Condition: new
Description: upper, reinforced part of the hood, without mounting hardware. Mounting clips exclusively on sports.
Year of manufacture, use: Audi UrQuattro

Material: polyester resin composite

Comments: 100% match.

Price: 1sztuka. Does not include shipping costs. Including 23% VAT

Postage costs:
1) with payment to your account: - 40 PLN (to be added to the price of goods on a deposit) - only in the UK
2) International Shipping: Ask a question about the exact cost of shippingJect = Delivery% 20cost% 20for% 20 ....& body = Hi% 2C% 0Aplease% 20give% 20me% 20delivery% 20cost% 20for% 3A% 20% ....% 0Amy 20country% 3A% 20. .% 0A% 0A% 0ARegards ........."> enquiries@tuning-zone.eu.
Approximate cost of shipping to EU countries: 47 Euro


The term of the contract:
Availability: shipping within 7 days from date of order

Forms of contracts:
1) from the panel - tuning-zone.eu (registered and registered users)
2) SMS - giving full details and payment (+48 889091198)
3) e-mail - giving full details to:

Other:
Invoice: by mail order must be given to the invoice.

We offer a widening fenders, bumpers, the thresholds for other models.

Light OEM components to sports and drift'ingu with GFK and carbon.

Ask a question about the spoiler you are looking for.

E-mail:
product specifications
Waga
<3
Logistyk symbol
L
Contact Form