BMW "3" E30 COUPE - lekkie przednie błotniki / light front fenders - DRIFT TC-FF30-01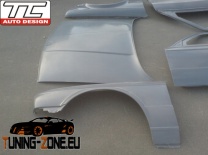 Price: 111,13 £
BMW "3" E30 COUPE - lightweight front wings / fenders front light - DRIFT TC-FF30-01

! Description of the company's own TC-Tuning Center autodesign.pl!
Protected by copyright.

Made of polyester-glass composite (commonly used building material for example, gliders and boats). Ensures excellent resistance to weather conditions and long-term usage.

Installation: The factory site

Color: White

Status: raw, for coating

Material: polyester-glass composite, FRP

Notes: the E30 Coupe OEM

Price: 1 set, does not include shipping costs

Postage costs:
1) a deposit account - 176zł (to be added to the price of goods on a deposit) - only inPL

Availability: shipping within 7-14 days from date of order

Forms of contracts:
1) from the panel - tuning-zone.eu (registered and registered users)
2) SMS - giving full details and payment (+48 889091198)
3) e-mail - giving full details to: GSM: +48 889091198

Thank you and invite you to shop.

Contact Form